Vegvísir, the Icelandic word for Way Finder
Thank you for choosing Camper Iceland!
You have decided to visit Iceland, the country where nature shows its true glory. Northern Lights (Aurora Borealis) dance in the skies. Almost 40% of Icelanders believe in elves and trolls, why shouldn't you. Taste the Icelandic kitchen or cook yourself by choosing local products. Icelanders also believe that you find the best fish and the best lamb meat in the whole world, care to try? Visit our geothermal spas that are said to have healing power. Go and watch the giants of the ocean, we have over 20 species of whale in Iceland. Iceland is the country of fire and ice with over 4500 square miles of glaciers. (11'655 square kilometers).  Iceland would not exist if it had not been for volcanic eruptions. You can take part in a volcano tour f.e. the Þríhnúkagígur magma chamber. At the largest Icelandic lake Þingvallavatn you find the UNESCO world heritage called Þingvellir where Icelanders founded the parliament in 930. Next to it you can snorkel i-or dive into the famous Silfra where you will swim between the European and American tectonic plates.
The best way to start the adventure is booking the most flexible and comfortable travel product, our Motor Homes and 4×4 Campers.
Become a customer
If you have not booked a vehicle yet and wish to get information about Iceland, where to go and what vehicle to choose. The best way to start is becoming a Camper Iceland customer.
Travel Documentation
Our customers receive the newest travel documents 4 weeks prior to pick up per E-Mail. The documents are very detailed and inspiring.
Tutorial to our Guide
Dear Customer
Thank you for choosing Camper Iceland. Your Iceland holiday is coming up soon, and we would like to prepare you as much as possible before your trip to Iceland. To make your trip as easy as possible, we have set up easy steps for you that keep you informed.
Better preparation will be achieved by reading this
You can always find the steps, especially during the trip, by visiting our web page. Keep reading to see why you should know about these steps.
Benefits
Save up to 30 minutes by checking in
Prepare before going to Iceland
The steps are reachable during the trip
Find useful information during the trip
Before the trip
Preparation before going to Iceland
Pre Check In
Please fill out all your date, including driver's license number and a phone number where you are reachable during the trip. We might need to call you because of weather forecasts etc. If you have filled out all data, our team only needs to verify the driver's license and the credit card details to check you in, instead of entering all the data manually while you and other customers wait. On a busy day, this can save you up to 30 minutes.
How are the steps built
Our aim was to make a logical order, so you can always check what is upcoming during the trip. We want to make your vacation experience great, and we invite you to be part of the Camper Iceland team. Work with us during all the steps. F.e. when landing in Keflavik (int. Airport) check the step 4 (To the rental station). We often experience that the driver cannot find the customer and then both get disappointed. Or if you are already on the road, and you have a small accident or any other issue, remember that we have a step 7: During trip… Here you can find the link to our support page.
We wish you all the best, and thanks for being part of the team.
Prepare at Home
1. Booking Details:
Make sure the following data is entered correctly into our system by visiting our 
Pre Check In system
.
Does the vehicle pick up time and date match your flight schedule?
Have you booked all Extras?
Have you booked the right insurance?
To save time at the rental station, please check this data carefully:

Number of passengers
Flight numbers / arrival and departure time
Email
Mobile phone number
Address
Date of birth
Driving license number / issue place / and expiry date (if available)
---
2. Your accommodation:
Do you arrive late at night, or do you have to leave early in the morning? Spend a night in a handpicked Hotel or Guest House. The Accommodations are located close to our rental station in Keflavik. Ask our sales team for a deal.
---
3. Your vehicle:
Check out our instruction videos: Instruction videos
Are you traveling with a 4×4 vehicle? Please read our 4×4 manual for our 4×4 categories carefully: 4×4 Manual Camper Iceland
Do you have a problem with the vehicle during the trip? Here you find troubleshooting, garages around Iceland and a special contact form that puts you into priority mode.
---
4. Travelling in Iceland:
Packing tips can be found below
Do you have a problem with the vehicle during the trip? Here you find troubleshooting, garages around Iceland and a special contact form that puts you into priority mode.
---
5. Driving in Iceland:
How to drive in Iceland: please watch the videos: How to drive in Iceland
Do you have a problem with the vehicle during the trip? Here you find troubleshooting, garages around Iceland and a special contact form that puts your request into priority mode.
---
6. Camping in Iceland:
Information about Camping in Iceland and the Icelandic Camping Card can be found in our Guide to Iceland: Guide to Iceland
---
7. Weather and road conditions in Iceland:
Before starting your holiday, please check the weather forecast and the road conditions: Guide to Iceland
---
8. Activities in Iceland:
---
9. Rental station Camper Iceland
Opening hours for Pick Up: 09.00 – 17.00, Mo – Fr
Opening hours for Drop Off: 09.00 – 16.00, Mo – Fr
For service outside the regular opening hours and on weekends / public holidays – we are happy to assist you. A fee would apply.
Finished preparing
Let's go to Iceland
Flight and Arrival in Iceland
Flights
Once you have booked a flight, make sure you check the exact details of the offer:
How much luggage is includes
How heavy can the luggage be
When do you have to be at the airport (normally 2 hours before flight)
Check your passport or ID, it must be valid 6 months after the trip
Is your name spelled right on the ticket
Have you booked a travel insurance and a cancellation insurance?
Have you booked a seat
Check In online if possible
Allow yourself enough time for bag drop off
If you need any kind of information of the airport or if you need assistance, check the webpage of the outgoing airport. F.e. Iceland has a wonderful homepage that gives you all details of the offers, check in, map of the terminal and everything: Check out the International Airport of Keflavik
Flight and Arrival in Iceland
Arriving in Iceland
Many travelers and even travel agents tell you that the airport is in Reykjavík. It is not! The international Airport is in Keflavik (so are we) and the distance between the international Airport and the small domestic Airport of Reykjavík is approx. 48.8 Km. Check your flight information what it states. The code will be KEF and that means you will be landing in Keflavik only 5 minutes from our rental station.
The small Airport in Reykjavík was built by the British and is only use for domestic flights. It is far too small for a large airplane, that is why all international flights are primarily to Keflavik (KEF). We have 2 more airports in Iceland that are used but rather seldom, Akureyri (AEY) and Egilsstaðir (EGS).
you have arrived in iceland
Go to the Rental Station
How to get to the Rental Station
The fastest way
The fastest way to us from the airport is taking a taxi.
The Camper Iceland rental Station is based approximately 10 minutes away from the international Airport (KEF). That's where you will land and enter our beautiful country. Please find there contact details Camper Iceland Rental Station: Contact details Camper Iceland rental station
Reykjavík
The international Airport is based in Keflavík and belongs to the Reykjanes area. A common mistake is to think the Airport is in Reykjavík, but similar to other international airports, it's not even close. Examples would be the Airport in Zürich is actually in Kloten approx.10 Km away. The Airport in London is not in London but 40 miles to Stansted, 50 miles to Luton and so forth. The small Airport in Reykjavík is only used for national flights.
Vehicle Instruction
Welcome to our Rental Station
 After a long trip, you have finally arrived at the rental station. Please be patient because this step is really important for your vacation. Look around the reception for extras and make sure you add a proper insurance option if you have not done so already. Once you have received the vehicle, check if everything works and that you have everything you need. Get rid of stuff that you do not need, f.e. we have a luggage room if you do not wish to carry on heavy luggage during the trip. Ask your instructor how the weather will be and if necessary adapt your travel plans to follow the good weather. Also, check all appliance to avoid having to drive back to the rental station. The steps will be:
Contract & Extras
It's time to find an instructor that will enter your details into our reservation system. Add all extras and ask for insurance options. We even offer a self risk insurance and many people have thanked us for inspiring them to buy one. Once you have been instructed on how to drive in Iceland, the weather in Iceland, where you can camp etc. it's time to learn how to use the vehicle.
Vehicle Instruction
We trust that you have watched the instruction video from your home.
If not, don't worry, we have a tablet and instructor ready for you. In short terms, we will show you all external features and internal features of a Motor Home / Camper. It is essential that you try all equipment while at the rental station. Explaining how things work will become difficult on the phone. However, we do have instruction videos about almost anything.
Link to our Support
do not leave until you are satisfied
Time to explore Iceland
Go shopping
You have been instructed how to use our vehicle. Did you make sure to add all extras that you need and choose the proper insurance package? You feel that you know the vehicle and how to operate everything, and you have checked that everything was provided and works. Well… then let's go shopping at the local store. One of the biggest advantage of our service is that you can cook your own food in a Motor Home or Camper and safe a lot of money. Still, we recommend trying the Restaurants in Iceland, especially in Reykjavík.
---
Supermarket / Cheap
The cheapest stores in Iceland would be and are both located in Keflavik such as around Iceland
---
More advanced
The more advanced stores would be:
---
Bakery and Shopping Malls
There are several bakeries in Iceland, check it on Google Maps. 
The far more advanced option is called Laugavegur and is located in Reykjavík. We also have two large shopping malls in Iceland. One is called Kringlan and one is called Smáralind.
Outdoor stuff and Car Stuff
if you are looking for outdoor stuff try a place called Útilíf. When it comes to car stuff like shovels, ropes, 12V stuff and cool gear check bilanaust. We also have 3 large construction stores called Byko, Húsasmiðjan and Bauhaus.
---
Gas Stations / Delivery / Around Iceland
In Iceland, we are really fond of Hamburgers and Hot Dogs. Almost every Gas Station has Coffee, Burgers, Hot Dogs and other Snacks. We are also known for a big variety of Pizza delivery.
Traveling around iceland
Support
During your trip
Camper Iceland has the most advanced instruction and trouble shoot experience in Iceland. Being the oldest Camper rental to provide live instruction, instruction videos and support line. Support team Camper Iceland: 003548601006
Support System
While driving in Iceland make sure to use our Support Web page with tips & Tricks, Instructions, Troubleshooting, garages around Iceland and a special contact form that puts you into priority mode. https://support.campericeland.is
In the event of
 Accident
If the accident is severe please dial 112 immediately for police or an ambulance or the fire brigade. In all cases please inform the rental station Camper Iceland.
After a nice stay in iceland
Time to return the vehicle
Prepare for drop off
In case you stored your luggage at our rental station, you might want to fetch it in order to pack your belongings. Make sure you have everything especially to prepare for the next step shuttle and flight (Passports, tickets etc.). During the pick up you were provided a guidance where to clean the vehicle.
Also check your flight time or if the flight has changed.
Before drop off
Go to the Gas station and dumping site
Empty the black and grey water tank (toilet and water)
Clean the outside of the vehicle
Clean the inside
Fill the Fuel Tank with the proper fuel
Return to the station
Damaged vehicle
Call us for an appointment immediately after the damage has occurred.
Make sure you contact us prior to the drop-off. Depending on the damage we will need time to solve the issue, and sometimes we need to consult with other companies that are only open during weekdays.
Ready for departure
Your flight home
informations on flights
Departing from Iceland
Preparation for your flight
Have you checked in online, checked the flight schedule?
Time to say goodbye or "auf Wiedersehen"
Do you have your luggage, wallet and passport. If the answer is yes, let's go the airport. Our friendly team is more than happy to help you book a taxi transfer.
---
CHECK-IN
How early should I arrive at the airport?
The recommended arrival time is two and a half hours before scheduled departure.
Where is the check-in?
The check-in area is in the terminal's departure hall on Level 1.
ONLINE CHECK-IN
Passengers can check in through the websites of most airlines that operate at Keflavik Airport.  When you check in online you receive a boarding pass to your smartphone/mobile device or for printing at home. If you are only carrying hand baggage, you can go directly upstairs to the departure lounge. If you have luggage to check in you can use our self-check-in kiosks or regular check-in counters. (See table below showing options for each airline.)
SELF-CHECK-IN
There are 50 self-check-in kiosks in the check-in hall, which are open 24 hours a day. You're welcome to check in more than two and a half hours before departure.
Self-check-in takes under a minute. You can choose your own seat and print your boarding pass and luggage tags (stickers). All you need is the flight's booking number or your passport. (See table below for each airline check-in options.)
BAGGAGE
SELF-SERVICE BAG DROP
Once you have self-checked in, you can go to the self-service bag drop off. You only need to scan your bag and boarding pass and drop your bags off to the bag drop off belt. (See table here with details for different airlines.) Backpacks with loose straps must be placed in the section "Special bags" located at the entrance of the self-service facility. Please make sure that the luggage tag (sticker) is clearly visible.
CHECK-IN DESKS
There are numerous check-in desks where ground handling agencies take delivery of bags if you do not wish to use the self-service bag drop off, where the bags are labelled and processed.
ODD-SIZE BAGGAGE 
You can drop off your odd-size baggage in a special area in the check-in hall. Odd-size baggage cannot be dropped off at the self-service bag drop. Skis, golf sets, pushchairs/strollers, child car seats, etc., are considered to be odd-size baggage.
| | | | | | |
| --- | --- | --- | --- | --- | --- |
| | Self-service check-in | Ground handler check-in | Online check-in | Self-service bag drop | Bag drop-off to ground handler |
| Icelandair | x | Only first-class | x | x | x |
| | | | | | |
| SAS | x | | | x | x |
| Delta | x | x | | | x |
| Norwegian | x | x | | | x |
| easyJet | | x | x | | x |
| WIZZ | | x | x | | x |
| Air Baltic | | x | x | | x |
| Eurowings | | x | x | | x |
| Vueling | | x | x | | x |
| Transavia | | x | x | | x |
| Other airlines | | x | | | x |
Here are links to Icelandair's web pages showing maximum baggage allowances and other information:
PREPARATION FOR CHECK-IN
You can speed up the check-in process by labelling all luggage carefully in advance and having your booking confirmations and passport(s) ready at the check in desk.
When packing for a trip, please bear in mind that cosmetic bags, toothpaste, hair products, perfumes, creams, aftershaves, deodorants, soaps, shaving cream and other comparable items are best kept in checked-in baggage.
Please remember to also pack any items not permitted in hand baggage in the checked-in bags. Items such as scissors, nail files and pocket knives must be placed in checked-in luggage. If such items are found in hand baggage during security screening, the passenger will, without exception, be prevented from continuing with such items through the security gate.
AFTER CHECK-IN
There's plenty to see and do in Keflavik Airport's departure lounge on the second floor. Passengers are advised to go directly through security screening after check-in and proceed to the departure lounge, which has a range of restaurants and shops, all of which are duty-free. The terminal has free unlimited Wi-Fi and numerous charging points for your devices.
Important Information
In this section you can find important information about regulations, drivers license requirements and more:
Packing for Iceland
Packing list for Iceland
The most important thing you need to know is that the weather in Iceland is unpredictable and changes all the time. You need to be prepared for sun, rain, wind and snow. We want to help you and will give you a few tips for your Packing list for Iceland.
The climate of Iceland is cold oceanic but more temperate than thanks to the North Atlantic Current. The average temperature during the winter is around 2°C in Iceland but it can be up to -10°C in different areas. During the summer, temperatures range between 12 – 26 °C.
It's very important that you invest in good quality gear to keep you warm and dry. Don't forget your sunglasses and swimsuits for your visit in Iceland because the Hot Pots await you!
It doesn't matter what season you travel in you will need to wear layers to be warm, comfortable, and ready for any type of weather.
Pack a small backpack or day bag where you can throw all you gear into for day trips. You'll probably need to carry a few things with you during the day like water bottles, camera, beanies, gloves, etc. and will need somewhere to put those things while you're exploring waterfalls and volcanoes.
You will need to pack a sleeping mask if you travel during the summertime as it never gets dark at this time of the year. Instead of the Northern lights, you'll be enjoying the Midnight sun!
You won't need an umbrella: Iceland is windy and makes umbrellas useless. Better to choose extra rain clothing instead!
The water in Iceland is pure and of course drinkable too.
Bring a travel adapter with you to charge phone, laptops, etc. Iceland uses European plugs.
Things that you should definitely pack:
Fleece jacket / lightweight wool sweater
Rainproof / windproof jacket
Rain pants
Walking shoes with a good tread / grip
Gloves
Scarves
Hat (toque/beanie)
Swimsuit
Thermal underwear (specifically for highland travel/activities)
Waterproof hiking boots (specifically for highland travel/activities)
Warm socks (specifically for winter and highland travel/activities)
Sunglasses
Are you in the area of Myvatn? During summertime bring an insect repellent or fly masks/nets (especially useful for horse riding).
A special note for horse riders
All gear, including the loan of boots, helmets and overalls, is provided for horse riding tours in Iceland. To protect Icelandic horses from serious diseases, it is strictly forbidden to bring any used horse riding gear or clothing from other countries to Iceland.
Drivers License
All driving licenses issued from the U.S.A, Canada and the European Economic Area (EEA) are valid in Iceland. A driving license from anywhere else is valid if it provides:
-A license number
-The drivers photograph, name and date of birth
-A valid date
-Been printed in Latin characters
If your driving license does not fulfil any of the above requirements then you must obtain an International Driving License to be able to drive in Iceland.
There you find further information: http://www.icetra.is/
General Information
Driver's license
A foreign driver's license is valid in Iceland for those who stay here on temporary basis. The principle is, however, that if a person has permanent residence in Iceland (normally legal domicile) he or she must hold an Icelandic driver's license. Exceptions to the rule are as follows:
Driver's license issued in the Faroe Islands or countries that are parties to the EEA Agreement gives the holder the same rights he or she has under the license of the issuing country. The rights are based on the validity of the license, but no longer than to the age of seventy.
Driver's license issued in states that are not parties to the EEA Agreement gives the holder rights to drive in Iceland for up to one month after he or she have registered a legal domicile in Iceland. After that the person concerned must hold an Icelandic driver's license in order to drive in Iceland.
How to trade a foreign driver's license for an Icelandic one
Individuals who reside in Iceland (in most cases have legal domicile) can trade their foreign driver's license for an Icelandic one. Application for a corresponding Icelandic driver's license is to be submitted to the district commissioner (district magistrate) or the chief of police, regardless of residence, provided that he or she have legal domicile in Iceland.
Application form can be obtained from the district commissioners (magistrates) and the chief of police outside the greater Reykjavík area. Within the jurisdiction of the chief of police in Reykjavík applicants can resort to the district commissioners in Kópavogur and Hafnarfjörður. See the website of district commissioners (magistrates).
Information about the application process
Nationals of countries that are not member states of the EEA Agreement will in most cases need to provide a statement about good health or a health certificate issued by a doctor, which ever is appropriate, and undergo a test of qualification. It is permitted to waive this last requirement if it is considered that the conditions for a driver's license in the country where the license was issued are no less than the requirements in Iceland. When the application is handed in the applicant (if he is not an EEA citizen) might need to prove his residency by displaying his residence permit card or by other means demonstrate that he has a residence permit in Iceland.
If the driver's license was issued in the Faroe Islands or in one of the EEA countries, the Icelandic license is usually issued without the applicant needing to undergo a test of qualification or submitting a health certificate or a statement about good health.
A person who is issued an Icelandic driver's license on the basis of a foreign one must hand in the foreign license when the application is submitted.
In most cases it is so that no one is allowed to have driver's licenses from more than one state which is party to the EEA Agreement.
Application for an Icelandic driver's license, in exchange for a foreign one, shall include:
A photograph (35×45 mm) of the applicant
Foreign driver's license
A statement about good health, or if appropriate a health certificate issued by a doctor, if the foreign license is not issued in the Faroe Islands or in member states of the EEA Agreement.
It is recommended that applicants resort to the district commissioners' (magistrates') offices for further information as it is the offices which establish on what basis individual applications are processed.
Icelandic Customs
Customs
Duty free imports
Travel gear and other luggage
Travelers who are residing abroad may import free of duty clothing and other travel gear which they bring into Iceland for their personal use, provided that these articles may be deemed to be suitable and normal relative to the purpose of the journey, the length of stay and circumstances in general.
Food
Travelers may import duty-free up to 3 kg of food, including candy, not exceeding the value of ISK 25,000.
Meat products may be imported if they have been boiled or canned. Smoking, salting or drying without boiling is unsatisfactory. It"s for example, not permitted to import bacon, sausages (salami and any kind of smoked uncooked sausages), saddles or pork, poultry, uncooked milk and uncooked eggs.
It is important for packaging to show ingredients.
Alcoholic beverages and tobaccos
In addition to goods referred to above, travelers can import duty-free alcoholic beverages and tobacco products as follows:
Alcoholic beverages:
Examples of possible combinations:
1 liter spirits and 0.75 liter wine and 3 liters beer or
3 liters wine and 6 liters beer or
1 liter spirits and 6 liters beer or
1.5 liters wine and 12 liters beer or
18 liters beer
See also this table with more options
Spirits comprise alcoholic beverages containing more than 21% alcohol; wines comprise alcoholic beverages, other than beer, containing 21% alcohol or less.
Tobacco:
200 cigarettes or 250 g of other tobacco products
The minimum age for bringing alcoholic beverages into Iceland is 20 years and 18 years for tobaccos.
See also information on possible combinations when shopping on the Duty Free store website.
Please note that travelers must have the duty-free allowance in his or her own possession and present it to the customs authorities if requested. The duty-free allowance cannot be assigned to travel agencies, tour guides, bus drivers or others. If a travel agency, driver or tour guide chooses to import goods on behalf of the travelers, the above described allowance for each traveler does not apply  and duties must be paid in accordance with the invoice for the goods. If no invoice can be presented the value of the goods will be assessed by the customs authorities.
Icelandic residents
Travelers who live in Iceland may bring duty free the luggage they brought with them abroad furthermore they can bring one or more items of duty-free goods worth in total up to 88,000 ISK according to the purchase price at the place of purchase, children younger than 12 years may carry duty-free goods for half that amount.
Import restrictions and prohibitions
The provisions of the regulations regarding duty-free imports by travelers do not give exemptions from import restrictions nor import prohibitions on various types of articles in accordance with law, regulations or other administrative instructions.
Restricted articles
Among goods which are subject to import restrictions are the following types of products:
Telephones and other communications equipment
The importation of various types of telephonic and communications equipment is subject to a permit from the Post and Telecom Administration. Equipment requiring such permit includes cordless phones, remote control devices for toys and radio transmitters and receivers not intended for regular broadcasting reception. However, a permit is not required if a traveler imports one GSM mobile phone.
Angling gear and riding clothing
Angling gear and riding clothing which has been used outside Iceland, including gloves, boots and waders, may be brought into the country if it has been disinfected according to valid regulations. A certificate of disinfection, issued by an authorized veterinary officer, will be acceptable, if presented to customs. If such a certificate is not presented, the gear has to be disinfected at the possessors" own cost on arrival.
Used riding gear
 It is prohibited to import to the country used riding gear, including saddles, bridles, halters and whips of leather.
Firearms and Ammunition
For firearms and ammunition, which a traveler brings in for own use, a permit is required from the police authorities. 
For person holding a European firearm permit who intends to engage in hunting or to practice sports shooting in Iceland may, however, import to the country the firearms specified in such a permit without a special permit from the Chief of Police, if his stay does not exceed three months and provided such firearms are permitted in this country. He is also authorized to import suitable quantity of ammunition for the firearms he brings with him.
Live Animals
Live animals may be imported only with a permit from MAST (Icelandic food and veterinary authority).
Medicines
Travelers may import conventional medicines suitable for personal needs during their stay in Iceland. There is a criterion: the medicines may not exceed 100 days consumption. (Customs) officers can request a doctor's certificate if appropriate.
Flowers and other plants
A phytosanitary certificate issued by the relevant authorities in the country of cultivation, endorsed by the Icelandic food and veterinary authority (MAST), is generally required. Without a certificate a traveler may bring along a bunch of flowers (up to 25 plants), bulbs, tubers and tuberous roots from Europe in unbroken packaging (up to 2 kg) and pot-plants from Europe (up to 3 pcs).
Prohibited articles
Among articles which are prohibited from importation are the following types of products:
Narcotics and dangerous drugs
Uncooked meat and various meat products e.g. dried meat, uncooked smoked ham, bacon, saddle of pork, smoked uncooked sausages (e.g. salami), uncooked poultry etc.
Meat and meat products have to be fully cooked in order to be allowed into the country.
Uncooked milk and uncooked eggs.
Various weapons, e.g. daggers with blades exceeding 12 cm, switchblade knives and flick stilettos, knuckles and various truncheons, crossbows and handcuffs.
Finely powdered snuff.
Moist snuff to be used orally, also available in bags.
If a traveler suspects that the importation of any item, which he is bringing to Iceland, might be restricted or prohibited, he should declare and produce it at customs at his own initiative.
General conditions of duty-free admission
Customs exemptions apply to goods which the traveler concerned has in his possession upon arrival to Iceland and is able to produce to customs for examination.
Duty-free importation may also be permitted for unaccompanied baggage if the traveler is able to prove that the baggage would have qualified for duty-free admission if he had brought it with him.
The goods must solely be intended for the personal use of the person concerned, his family or as gifts.
Goods intended for sale or other commercial purposes may not be imported free of duty.
On leaving Iceland travelers must take along the articles they imported duty-free in so far as they have not been expended in the country.
Please note that a travel agency, driver, guide or other persons can't import the goods duty-free on behalf of the traveler.
Customs clearance
A traveler arriving in Iceland from abroad shall voluntarily declare to a customs officer and produce to him all goods in his possession which he cannot import duty free or are subject to import restrictions or import prohibitions.
If there are red and green channels where the customs clearance of travelers takes place, they are expected to choose channels and by doing so indicate whether they are carrying goods which can be freely imported or not.
The red channel is for those who have in their possession:
dutiable goods or
goods which are subject to import restrictions.
The green channel is for those who have nothing to declare.
If in doubt as to the rules of customs privileges for travelers, import restrictions etc., it is advisable to choose the red channel.
(Customs) officers can always request to examine those going through the green channel; the same applies in general at customs examination places that do not have separate customs clearance facilities. These persons must render all relevant assistance, e.g. by opening suitcases and containers, empty their content and to give such information about the luggage as may be requested. If such an inspection reveals goods which have not been declared in accordance with above instructions, the person in question may be liable to legal proceedings.
Vehicles
Special regulations apply concerning the temporary duty-free importation of motor vehicles cf. a special section for further information.
Currency
Travelers arriving to the country or departing from the country for abroad shall voluntary declare amounts of cash which they have in their possession exceeding an amount equal to EUR 10.000 based on the official adjustment rate of exchange as it is registered at any given time.
Natural Objects
The Nature Conservation Act is intended to ensure the protection of the diversity of habitats and landscapes, flora and fauna. In the Icelandic flora there are now 31 protected species of higher plants and it is forbidden to collect specimens of these species or damage them in any way.
According to a legislation concerning bird-hunting and bird protection in Iceland the export of birds, birds" eggs, eggshells and nests is strictly prohibited. Law protects all stalactites and stalagmites in caves throughout the country and it is forbidden to break or damage these in any way.
Objects of historical or archaeological interest may not be taken out of the country without special permission from the Icelandic Museum of Natural History.
Customs authorities encourage visitors to Iceland to respect and understand that nature is an important, but delicate, resource of permanent value.
See also: More information on import restrictions.

Updated August 2017, by the toll officials
See also this booklet:
Duty free allowances of travelers – text in 5 languages (pdf)
How to drive in Iceland
Driving academy
Winter Driving
Visibility while driving in Iceland
All mountain roads and roads in the interior of Iceland have a surface of loose gravel. The same applies to large sections of the national highway, which also has long stretches of asphalt. The surface on the gravel roads is often loose, especially along the sides of the roads, so one should drive carefully and slow down whenever approaching an oncoming car. The mountain roads are also often very narrow, and are not made for speeding. The same goes for many bridges, which are only wide enough for one car at a time. In addition to their not having an asphalt surface, the mountain roads are often very winding. Journeys therefore often take longer than might be expected. For information on road conditions: Tel: 354-563-1500, answering service 24 hours, Tel: 800-6316 (In English 1/6-31/8). The general speed limit is 50 km/h in urban areas, 80 km/h on gravel roads in rural areas, and 90 km/h on asphalt roads. Please note: special warning signs indicate danger ahead, such as sharp bends, but there is generally not a separate sign to reduce speed. Please choose a safe speed according to conditions. Motorists are obliged by law to use headlights at all times day and night. In Iceland all driving off roads or marked tracks is forbidden. Passengers in the front and back seats of an automobile are required by law to use safety-belts. Icelandic law forbids any driving under the influence of alcohol.
Motor vehicle insurance
A Green Card or other proof of third-party insurance is mandatory for motorists driving their own cars in Iceland, except from the following countries: Austria, Belgium, The Czech Republic, Denmark, Faroe Islands, Finland, France, Germany, Gibraltar, Great Britain, Greece, Hungary, Ireland, Isle of Man, Italy, Liechtenstein, Luxembourg, Monaco, Netherlands, Northern Ireland, Norway, Portugal, San Marino, Slovakia, Spain, Sweden, Switzerland, The Vatican. Drivers without a Green Card (or equivalent) must buy a separate third-party insurance policy on arrival.
Filling stations
In the greater Reykjavík area filling stations are open Mon-Sat 07:30-20:00, Sun 09:00-20:00 (Oct- May 10:00-20:00). Many of the filling stations are open until 23:30. Opening hours around the country, where the pumps are privately operated, can vary from place to place. Most stations are open until late in the evening, to 22:00 or even 23:30. Many stations in the Reykjavík area have automats in operation after closing, which accept 1000 krónur bank notes and credit cards. All filling stations accept credit cards. Automats are also operated in various places around the country. Octane levels in Iceland are 92 regular unleaded, 98 premium leaded and premium unleaded 95.
Opening of the mountain tracks
Most mountain roads are closed until the beginning of July, or even longer because of wet and muddy conditions which make them totally impassable. When these roads are opened for traffic many of them can only be negotiated by four-wheel-drive vehicles. It is strongly advised that two or more cars travel together. Also, before embarking on any journey into the interior collect as much information as possible regarding road conditions from a travel bureau, tourist information office or the Icelandic Road Administration (ICERA) Tel: +522 1000 or 1777 – <a href="http://www.vegagerdin.is/english/">http://www.vegagerdin.is/english/</a>.  A booklet called Mountain Roads can be obtained at Tourist Information Centres and the offices of the Icelandic Tourist Board abroad. Always take along a detailed map.
Getting around
Getting aroundin Iceland is easy during the summer but can be difficult during winter. The domestic airlines provide the only reliable form of transport in the winter when snow and ice prohibit most overland travel. In summer, the airlines have daily flights between Reykjavík and most major destinations. Iceland has no railways and its highway system is the least-developed in Europe. However, Bifreiðastöð Íslands (BSÍ), a collective organization of long-distance bus lines, does a tidy job of covering the country with a feasible, though inconvenient, network. There are also a number of ferry services connecting ports. Car-rental agencies are found in most major towns. With its unsurfaced roads, steep hills and inclement weather, Iceland is hardly a cyclist?s dream. Nevertheless, an increasing number of visitors are trying cycling as a mode of transport, and bikes can be rented in most urban centres, as well as at hotels, hostels and guesthouses. Local transport includes municipal buses, and taxis which can also be hired for sightseeing.
Map to our rental Station
Lavatory disposal - Empty the toilet
---
Dumping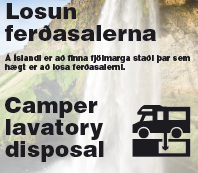 Please use the links above for the brochure. However we do recommend to check the place:
REYKJAVÍK OG NÁGRENNI /
REYKJAVÍK AND SURROUNDINGS
» Reykjavík, skólphreinsistöð / wastewater treatment plant, Klettagarðar
» Reykjavík, tjaldstæði / camping site, Laugardalur
» Hafnarfjörður, dælustöð / wastewater pumping station, Hraunavík
VESTURLAND / WEST ICELAND
TJALDSVÆÐI / CAMPING SITES
» Hlaðir
» Akranes
» Þórisstaðir
» Borgarnes
» Varmaland
» Fossatún
» Húsafell
» Grundarfjörður
» Rif
» Stykkishólmur
» Búðardalur
VESTFIRÐIR / WESTFJORDS
TJALDSVÆÐI / CAMPING SITES
» Hólmavík
» Drangsnes
» Heydalur,
Ísafjarðardjúp
» Súðavík
» Bolungarvík
» Þingeyri
» Bjarkarlundur
» Tálknafjörður
» Patreksfjörður
» Breiðavík
» Bíldudalur
AÐRIR STAÐIR / OTHER SITES
» Áhaldahús / maintenance center, Stakkanes, Ísafjörður
NORÐURLAND VESTRA /
NORTHWEST ICELAND
TJALDSVÆÐI / CAMPING SITES
» Borðeyri
» Hvammstangi
» Sauðárkrókur
» Skagaströnd
» Blönduós
» Bakkaflöt
» Ólafsfjörður
» Hofsós
AÐRIR STAÐIR / OTHER SITES
» Siglufjörður, bensínstöð / gas station, Olís,
» Varmahlíð, bensínstöð / gas station,
NORÐURLAND EYSTRA /
NORTHEAST ICELAND
TJALDSVÆÐI / CAMPING SITES
» Þórunnarstræti,
Akureyri
» Hamrar, Akureyri
» Hrafnagil
» Dalvík
» Systragil, Fnjóskadalur
» Vaglaskógur
» Heiðarbær
» Hlíð, Mývatn
» Vogar, Mývatn
» Húsavík
» Ásbyrgi
» Þórshöfn
AÐRIR STAÐIR / OTHER SITES
» Akureyri, bensínstöð / gas station, Olís
» Dalvík, bensínstöð / gas station, Olís
AUSTURLAND / EAST ICELAND
TJALDSVÆÐI / CAMPING SITES
» Bakkafjörður
» Borgarfjörður
» Seyðisfjörður
» Egilsstaðir
» Hallormsstaður
» Möðrudalur á Fjöllum
» Norðfjörður /
Neskaupsstaður
» Stöðvarfjörður
» Fáskrúðsfjörður
» Kverkfjöll
» Djúpavogur
» Lambleiksstaðir,
Hornafjörður
» Végarður Fljótsdalur
» Höfn, Hornafjörður
» Haukafell,
Hornafjörður
AÐRIR STAÐIR / OTHER SITES
» Reyðarfjörður, bensínstöð / gas station Olís,
» Vopnafjörður, áhaldahús / maintenance center, Búðaröxl 5
SUÐURLAND / SOUTH ICELAND
TJALDSVÆÐI / CAMPING SITES
» Skaftafell
» Kirkjubæjarklaustur
» Vík í Mýrdal
» Þakgil
» Skógar
» Hellishólar, Fljótshlíð
» Árhús, Hella
» Úlfljótsvatn
» Flúðir
» Þjórsárver
» Laugarvatn
» Geysir
» Reykjamörk,
Hveragerði
» Engjavegur, Selfoss
» Þorlákshöfn
» Laugaland
AÐRIR STAÐIR / OTHER SITES
» Fljótshlíð, Kaffi Langbrók / Restaurant Langbrók
» Selfoss, bensínstöð / gas station Olís
» Vestmannaeyjar, íþróttasvæði Þórs / Þór's sports stadium
SUÐURNES
TJALDSVÆÐI / CAMPING SITES
» Grindavík, Camping site at Austurvegur 26
» Sandgerði, Camping site at Hlíðargata 9b
AÐRIR STAÐIR / OTHER SITES
» Reykjanesbær, skólphreinsistöð / wastewater treatment plant, Fitjabraut 1c
» Garður, almennings salerni / WCs at Garðskagi
Akureyri – Egilsstaðir – Hella – Ísaörður – Mývatn
Patreksörður – Reykjavík – Snæfellsnes – Vestmannaeyjar
Losun
ferðasalerna
Á Íslandi er að finna fjölmarga staði þar sem
hægt er að losa ferðasalerni.
Camper
lavatory
disposal
Locations for proper
camper lavatory disposal
There are many locations in Iceland where
portable toilets can be emptied.
Uppfærður listi og ítarlegri upplýsingar um
losunarstaðina má finna á goo.gl/RE9tLy.
Vinsamlegast athugið að á sumum losunarstöðum er
gjaldskylda fyrir losun ferðasalerna
Freshly updated list and further information
on the disposal areas on goo.gl/RE9tLy.
Please note that at some locations a fee is
charged for emptying of portable toilets.
goo.gl/RE9tLy
Northwest
Iceland
Northeast
Iceland Westfjords
West Iceland
South Iceland
East
Iceland
Reykjanes
Reykjavík
Reviews - Feedback
Reviews
We would appreciate if you could leave us a positive feedback. Car Rentals normally only get reviews from customers that damaged something and as you might know those reviews are never good. We are a family business and take reviews personally. In order for us to improve we appreciate your feedback: info@camper.is.
Illegal driving in Iceland
Illegal off-road driving
Most tourists who come to Iceland do so to enjoy Icelandic nature, which is certainly unique.  Geologically speaking, Iceland is a young country; a volcanic island that is still being formed, as the world has certainly taken note of over the last few years.  But due to how young the land is and how it has developed, the natural environment is fragile and sensitive.  When the fact that the country lies right below the Arctic Circle is taken into consideration, along with the fact that the growing season is short, it is apparent that the environment can take many years, decades or even centuries to recover.  For example, many people don't realize that by uprooting or driving on moss, damage is caused that can take at least a decade or, more likely, some hundreds of years to mend – and we're not even talking about the highlands where the summer is much shorter.
Whilst traveling around the country, the highest respect for the Icelandic environment must be shown.  It's good to remember to take nothing besides photographs and leave nothing behind except footprints.
Check out the road map and see where the roads and trails are.
Get information about the appropriate routes at visitor centre, and from rangers or staff.
Find out in advance when mountain roads are likely to be open, along with other related information, at a visitor centre or here.
While on your trip around the country you'll quickly see that in many places, road ruts and paths have formed from other people.  Often they are closed off with nothing more than a row of small rocks.  Don't be caught in the pitfall of following those paths; only stay on roads and marked trails.  Instead, think about the damage off-road driving has caused, take photos and educate friends and acquaintances.  See how long such damage takes to heal.  Notice that ruts don't just look ugly; they draw in water and thereby cause even further damage, leading to erosion of soil and vegetation.  Walk around a short distance or turn around if you can't go any farther by driving.  That's the only right thing do.  Besides, you can easily expect a sky-high fine or prison term for offenses.
We should all set a good example.  Together we share the responsibility of ensuring that everyone gets the chance of enjoying a pristine natural environment for years to come.
STEP 1
Choose the right vehicle, click here to access our guide to Iceland
AT HOME
We provide tips what you can prepare while you are still at home. The information is further down this guide.
FLIGHT & HOTEL
Visit our Travel Agency to book a flight or accommodation. We offer both Guest House and Hotel deals and have handpicked the best partners that are reliable and close by.
Click here to visit our travel Agency
STEP 2 BOOK NOW
click here to book a vehicle
PRE – CHECKIN & KIOSK
We have a pre-checkin system that can save you up to 30 minutes at the rental station. The system acts as a KIOSK and can be accessed as many times as you wish. Add insurance options and extras from the comfort of your home.
Click here to access our Pre-Checkin Page (Booking Number required).
Videos
Watch the instruction videos online and speed up the pick up process. Our team will show you to your vehicle and answer questions.
ALREADY BOOKED A VEHICLE?
It's time to prepare for the vacation. We have prepared a guide for you. read down this page to become an expert of Iceland. 
Customer assistance
We have an advanced support system should you forget how something works. You have access to it anytime.
Click here to access our Support Page