Lost in Iceland
Most of the hot spots of Iceland are close to the Ring Road 1 that we call Þjóðvegur. These sites are accessible all year long although the service in the winter is sometimes limited. For a trip like this you can choose whatever vehicle category you want.
On the other hand we have the magical highland that is definitely worth seeing. The highland is closed during the winter and the exact date is not decided by us Icelanders but by the gods. In other words the highland is only opened when it is accessible and safe to visit.
Are you interested in day tours and activities? Please check this link where you find your adventure: Day tours and activities in Iceland
All the "F" marked roads in Iceland requires a 4×4 vehicle, good to know.
How do I choose the right vehicle for Iceland then?
Around Iceland
I want to travel around Iceland on the ring road. The Ring Road is 1615 Km, but if I visit the sites I will drive approx. 2300 Km.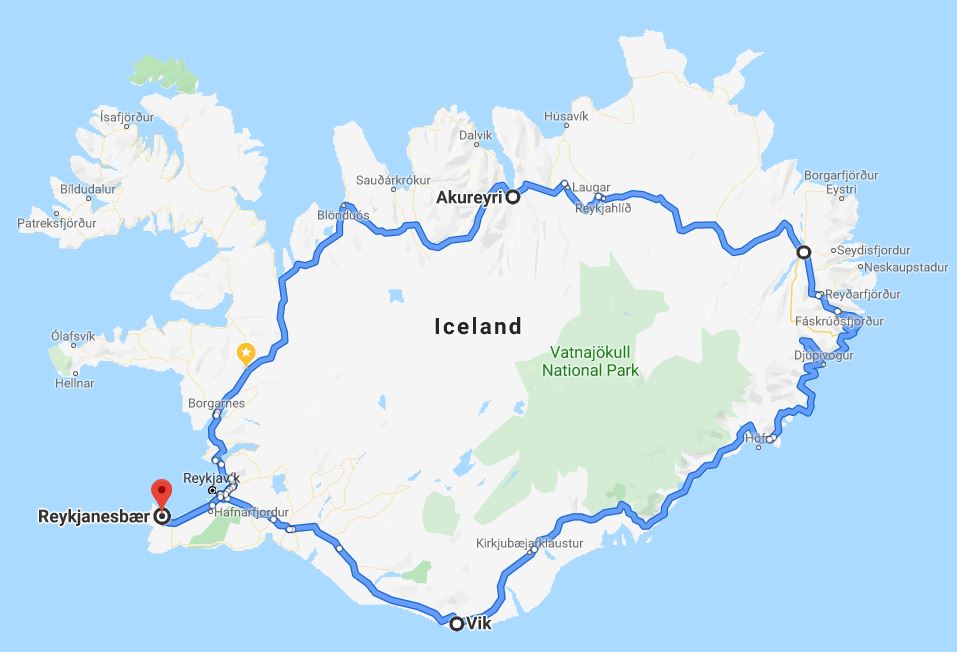 Most first time Visitors choose this option to get the first impression of Iceland.
You can add the West Fjords by adding at least 900 Km to the trip and a weeks time. 
You can add the Snæfelssnes peninsula by adding approx. 300 Km or 2 days time. 
You can choose whatever category for this trip. The most comfort is found by choosing a Motor Home. 
The Highland
I want to see the Icelandic Highlands and drive at least 1100 Km. I have 2 weeks time to enjoy the remote places and cross unabridged rivers. 
If you have seen the sites around the ring road it makes sense to check out the Highlands next.
A trip like this is for adventurers that like being in remote places and have outdoor experience. 
Store your belongings and food wisely and get ready for a bumpy road. 
You must choose a 4×4 Camper for a trip like this. 
I want both
I want it all and have at least 3 weeks to travel around and thru Iceland. I will drive approx. 3100 Km.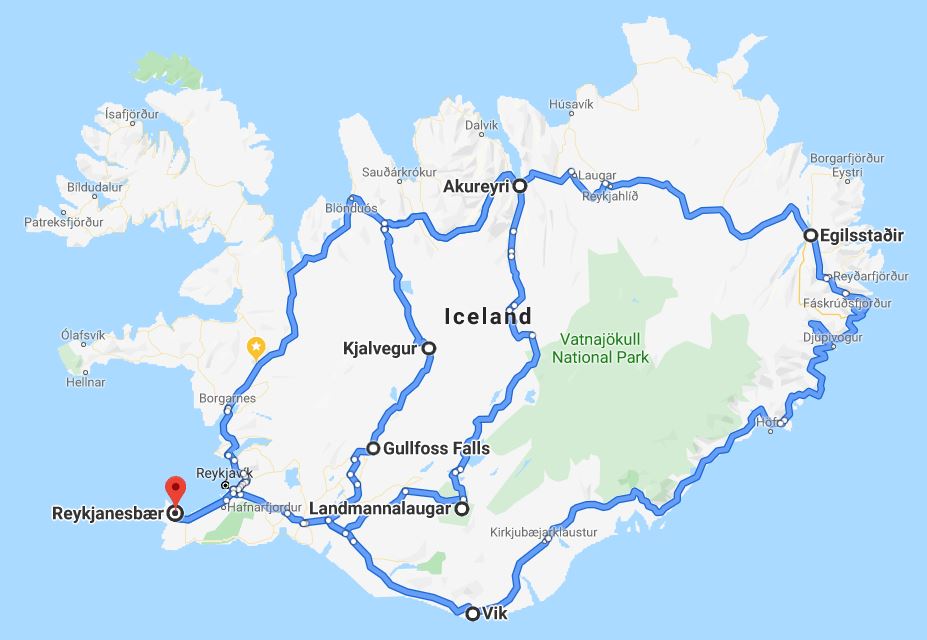 Choose a Motor Home for 2 weeks and visit the sites around Iceland first. 
Once back at our Rental Station it is time to change to a 4×4 Camper. The highland trip will take at least 7 days but 14 days are considerably better. 
If you book this trip with us we give you the camping Kit for the second vehicle for free. 
Contact our sales department for a special offer.  
Opening hours of the Highland
Normally the Icelandic government publishes a map with information on mountain road conditions during the first weeks of summer. As mentioned before the mountain roads open in very different times based on the location of the site. The difference between the opening dates can be over a month and depends on the weather condition, please plan carefully.
For the current road conditions of mountain roads, see below:
Condition of mountain tracks (gif)
Weather Condition
Traveling with the weather is one of the benefits of renting a motor home or camper. You can always alter your route if the weather is better somewhere else than where you are or planned to go. 
The governmental weather channel shows also wind speeds and prognoses northern ligh activity. 
Road Conditions
The road condition are an important thing to check while in Iceland, especially during the winter time. The Icelandic government (road association) keeps this page updated for your convenience. 
Remark: all the "F" marked roads in Iceland requires a 4×4 vehicle.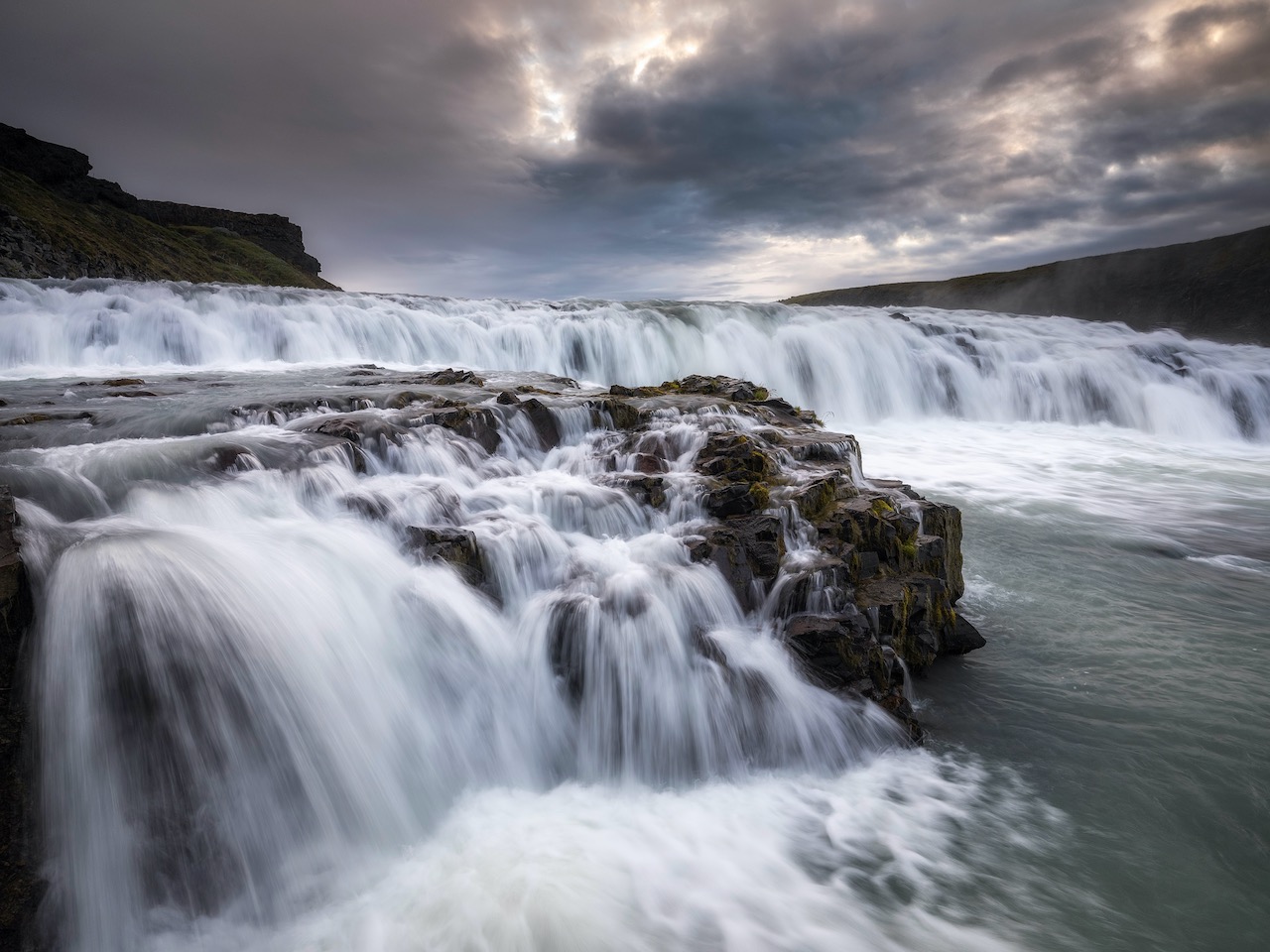 Do it yourself solution
When planing a trip to Iceland all you basically need to do is plan by using a map. The trip will start in Keflavik near the Airport at our rental Station and it will also end there. We recommend planning 200 Km per day or less and just marking a 200 Km goal into the map. Driving more Km per day will only lead to having less time for the sites and having to drive for a long time. Each day you check your position and where you want to go next. If you love a site you can stay there for a day longer and on the next day you drive a bit longer. There are free booklets such as "Around Iceland" and "Áníng" that help you find the hot spots and camp sites. These brochures can be found at our rental station, gas stations and tourist information free of charge.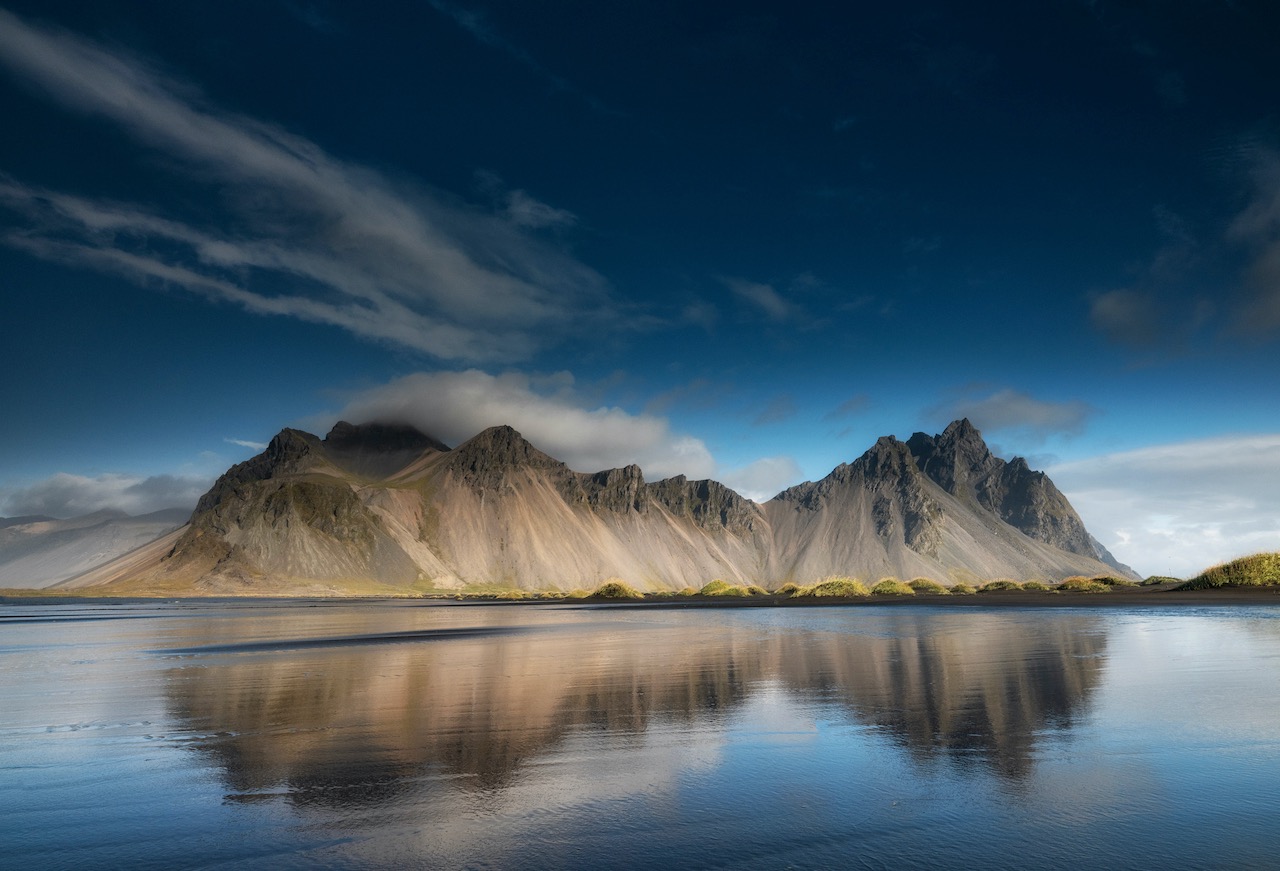 Motor Home and Highland combo
There is another clever way to combine a round trip with the highland. Many customers choose to rent a Motor Home and plan a guided day tour to the highland. The highland bus can be taken from Reykjavík, north Iceland or even from closer to the highland. During the day trip the Motor Home is left at the parking space of the tour company. Contact sales for further information.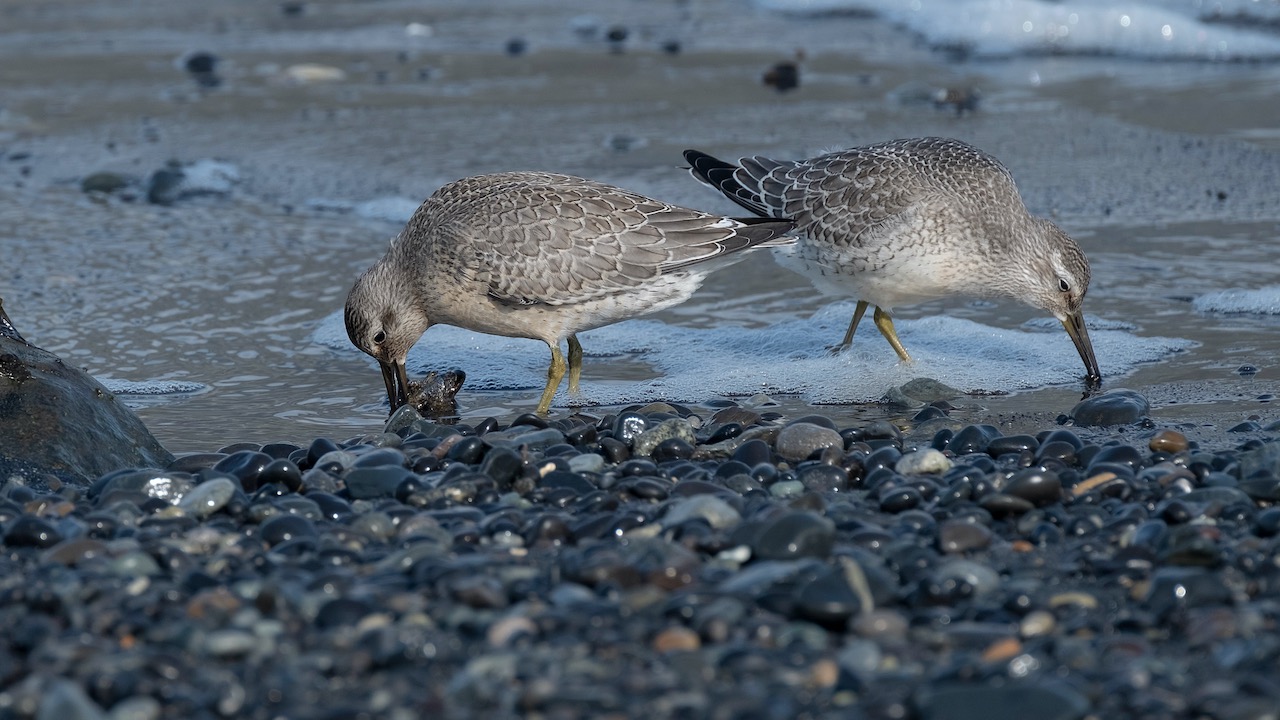 Around Iceland and West Fjord Combo
Visit the most western point of Europe. Travel along the endless fjords and visit bird cliffs. The West fjords have a lot of beautiful sites to offer and were totally ignored by tourists for centuries. Beautiful waterfalls, little villages and wildlife is what you can expect. The beaches are absolutely unique and worth seeing. 
We recommend renting the Motor Home for at least three weeks. You will drive somewhere between 3200 and 3800 Km and get to see the sites that most visitors skip during the first their first trip to Iceland.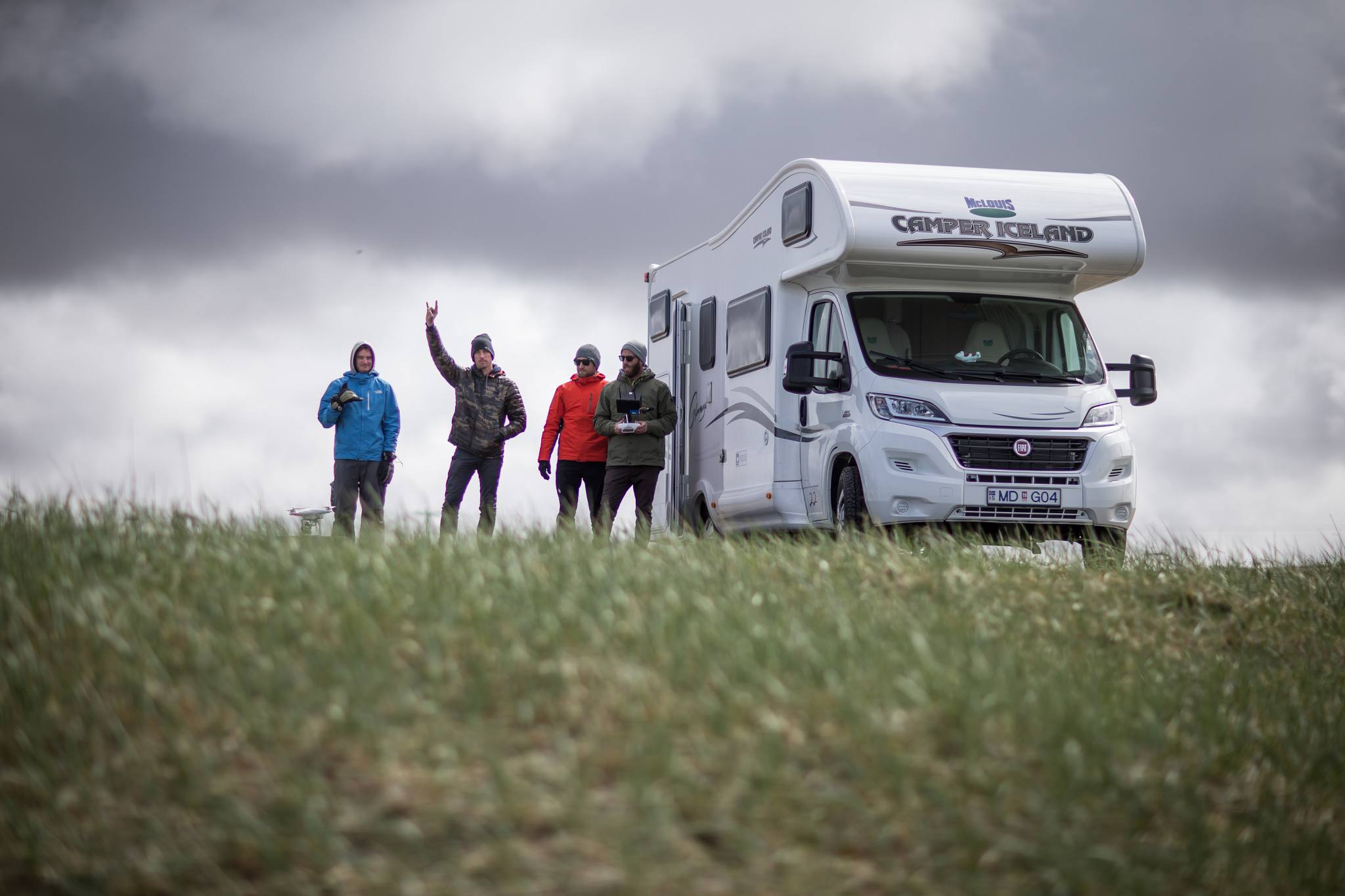 Around Iceland and Snæfellsnes Combo
In the far west of Iceland you will find the Snæfellsnes peninsula. Famous for its glacier Snæfellsjökull that you might have heard of. It is said that this mountain is one of the most famous sites of Iceland. Probably because of the novel "Journey to the Center of the Earth" by Jules Verne, in which the protagonists search and find the entrance leading to the center of the earth.
We recommend renting the Motor Home for at least three days more than intended for the trip around Iceland. You will drive somewhere between 150 and 300 Km and get to see the sites that most visitors skip during the first their first trip to Iceland.
Are you ready for your Vacation
Around Iceland in the Summer
Here is an example of traveling around Iceland during the end of the season. 
Around Iceland in the Winter
Here is an example of traveling around Iceland during the end of the season.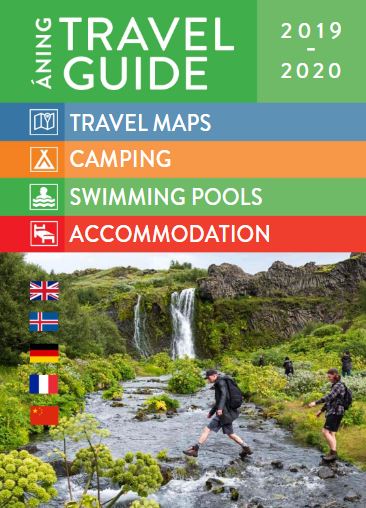 Áning Booklet
Áning is the perfect booklet to prepare for your trip to Iceland. It covers most of the Camp Sites and Swimming Pools. The Booklet can be found at our rental station, gas stations and at the tourist information stations in Iceland.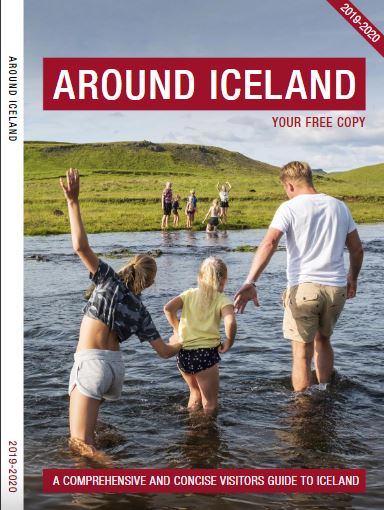 Around Iceland Booklet
The Around Iceland Booklet is a comprehensive and concise vistors guide to Iceland. Featuring Sights, Hot Spots, Weather Information, time Yone Imformation and much more. The Booklet can be found at our rental station, gas stations and at the tourist information stations in Iceland.
Where to Camp in Iceland
The booklet Áning Travel guide (see above) gives you access to most camp sites. When we travel ourselves we just drive towards our daily goal and once we pass by a camp site we check it out and if we like it, we stay there. Camp sites in Iceland are often (99%) open fields where you just drive in and choose where to park / camp. In the evening an employee of the camp site will stop by to charge for the camp ground. Sometimes you pay per vehicle and sometimes you pay per person. Most camp sites have electricity plugs where you will connect the vehicle. You can use the facilities such as waiting rooms, kitchens and showers depending on the offer. You can check the booklet or visit the camp ground webpage.
Do I have to use a camp ground
Since 2015 the answer is yes. The law states that you have to camp on a camp ground except for camping on private land (ask for permission) or if no camp ground is reachable. Read our article about it below. 
Camping in Iceland has always been a popular choice for many travelers. Iceland has around 170 registered campsites, usually open from June until  mid-September. For the season outside these dates the Icelandic Government has published a list of open camp sites. These sites can be found here. 
Experience the pure, clean and untouched environment in Iceland and with your help it stays that way. Camper Iceland has always recommended leaving all sites in the same condition as you found it. 
Icelandic nature preservation law dictates where you are allowed to camp in Iceland if you find yourself away from registered campsites. In residential areas, you are allowed to pitch up to three camping tents in uncultivated land for one night only if there is no campsite in the area.
Find a campsite:
If you wish to camp on cultivated land or near residential buildings, fenced off farmland, or such, you have to ask permission from a landowner or other beneficiary before you pitch up the camping tent. The same rule applies if you intend to stay longer than one night. You are not allowed to camp on farmland without permission.
In the highlands, you have permission to pitch up camping tents. This applies only to a regular camping tent. Mobile campers must always seek permission from landowners or other beneficiaries before camping, whether in residential area, on uncultivated land or in the highlands.
Don't worry camping in Iceland is really easy.
When is the best time to visit Iceland
In the 80ies and 90ies Iceland was mostly visited during the summer. The best dates were said to be June, July and August. Time has changed since then and Iceland has much more to offer nowadays. The road conditions have improved and the available homepages give access to road conditions and the weather forecast. 
March – April
The days are getting longer and most sites around Iceland are really beautiful. If you travel during these months it makes sense to check the weather forecast and road conditions daily. By doing so you will find the best place to go to enjoy the sites and perhaps take pictures. The benefit of these months is the low rates and low stream of tourists. 
September – October
The days are getting shorter and by approx. 20ths of August you have chances to see the northern lights (aurora borealis). The birds are slowly leaving Iceland but you still have very good chances to see the big whales of Iceland. In this time period yo uprofit from lower rates. 
May – June
The Flora and Fauna is starting to show itself from a beautiful side. It feels like nature is coming back to life. The puffin will leave its normal habitat (the ocean) and come ashore for display. Whale watching is also great during these months. You still profit from the lower rates in the whole country. The brightest day of the year is in the end of June. 
November – February
This time period is for adventurers only. The weather can change within 5 minutes from rain to sun, from sun to snow. A great time to visit the capitol and check the weather forecast and road condition to decide what site to visit. Our Motor Homes and 4×4 Camper are probably the best method to hunt for northern lights. Drink a warm coffee and wait for the miracle to happen. 
July – August
These are the most popular month because you have it all. The best weather condition, the highland is open (see above) and the nature is in its greatest bloom. Checking the weather condition at the beginning of the trip is essential because believe it or not sometimes the weather travels around the island. It's smart to be on the sunny side of the island. 
Christmas & New Year's Eve
Iceland is really beautiful during the holiday season. We have Europe's greatest firework show on New Year's Eve because we finance our rescue organizations by buying the fireworks from them. Christmas shopping starts early and due to the almost complete darkness during this period the light show on all houses is like a miracle. 
Useful Information
A few important things to consider:
Drivers License
All driving licenses issued from the U.S.A, Canada and the European Economic Area (EEA) are valid in Iceland. A driving license from anywhere else is valid if it provides:
-A license number
-The drivers photograph, name and date of birth
-A valid date
-Been printed in Latin characters
If your driving license does not fulfil any of the above requirements then you must obtain an International Driving License to be able to drive in Iceland.
There you find further information: http://www.icetra.is/
General Information
Driver's license
A foreign driver's license is valid in Iceland for those who stay here on temporary basis. The principle is, however, that if a person has permanent residence in Iceland (normally legal domicile) he or she must hold an Icelandic driver's license. Exceptions to the rule are as follows:
Driver's license issued in the Faroe Islands or countries that are parties to the EEA Agreement gives the holder the same rights he or she has under the license of the issuing country. The rights are based on the validity of the license, but no longer than to the age of seventy.
Driver's license issued in states that are not parties to the EEA Agreement gives the holder rights to drive in Iceland for up to one month after he or she have registered a legal domicile in Iceland. After that the person concerned must hold an Icelandic driver's license in order to drive in Iceland.
How to trade a foreign driver's license for an Icelandic one
Individuals who reside in Iceland (in most cases have legal domicile) can trade their foreign driver's license for an Icelandic one. Application for a corresponding Icelandic driver's license is to be submitted to the district commissioner (district magistrate) or the chief of police, regardless of residence, provided that he or she have legal domicile in Iceland.
Application form can be obtained from the district commissioners (magistrates) and the chief of police outside the greater Reykjavík area. Within the jurisdiction of the chief of police in Reykjavík applicants can resort to the district commissioners in Kópavogur and Hafnarfjörður. See the website of district commissioners (magistrates).
Information about the application process
Nationals of countries that are not member states of the EEA Agreement will in most cases need to provide a statement about good health or a health certificate issued by a doctor, which ever is appropriate, and undergo a test of qualification. It is permitted to waive this last requirement if it is considered that the conditions for a driver's license in the country where the license was issued are no less than the requirements in Iceland. When the application is handed in the applicant (if he is not an EEA citizen) might need to prove his residency by displaying his residence permit card or by other means demonstrate that he has a residence permit in Iceland.
If the driver's license was issued in the Faroe Islands or in one of the EEA countries, the Icelandic license is usually issued without the applicant needing to undergo a test of qualification or submitting a health certificate or a statement about good health.
A person who is issued an Icelandic driver's license on the basis of a foreign one must hand in the foreign license when the application is submitted.
In most cases it is so that no one is allowed to have driver's licenses from more than one state which is party to the EEA Agreement.
Application for an Icelandic driver's license, in exchange for a foreign one, shall include:
A photograph (35×45 mm) of the applicant
Foreign driver's license
A statement about good health, or if appropriate a health certificate issued by a doctor, if the foreign license is not issued in the Faroe Islands or in member states of the EEA Agreement.
It is recommended that applicants resort to the district commissioners' (magistrates') offices for further information as it is the offices which establish on what basis individual applications are processed.
Child Safety Seat
Note that people must be at least 150cm tall to sit in a seat with an inflatable airbag in front of it.
An unborn child is well protected by a seat belt. The lower part of the belt should lie under the woman's belly.
It is essential that the seat belt be fastened around the infant car seat according to the manufacturer's instructions.

Cat. 0 – weight: 0-10kg, age: up to 9 months
Cat. 0+ – weight: 0-13kg, age: up to 18 months

Cat. 1 – weight: 9-18kg, age: 9 months to 3-4 years

A child in a rearward facing car seat is protected best in the car. Never put a child's car seat in the front seat of a
car which has inflatable airbags for the front seats.


Cat. 1 – weight: 9-18kg, age: 9 months to 3-4 years
Cat. 2 – weight: 15-25kg, age: 3-4 to 6-7 years

It is safest to put a child in forward facing car seats, in the rear of the car. It is best to fasten the seat with a 3-point seat belt.


Cat. 2 – weight: 15-25kg, age: 3-4 to 6-7 years
Cat. 3 – weight: 22-36kg, age: 6-7 to 10-12 years

It is safest for children sitting in booster seats to be in the rear seat of the car. Booster seats should be fastened with 3-point belts. A child should weigh at
least 15kg in order to use a booster seat. A booster seat with a back is required if there's no headrest.

A child should only use a seat belt if it lies across the shoulder and thigh. If the belt runs across the belly or rests on the neck, the child should sit in a booster seat. One must never put a seat belt under a child's arm or slide it behind the child's back.
Ready to choose the Vehicle
After reading our Guide to Iceland you have become a specialist. Now all you need to do is choose the vehicle size based on how many travelers you are. 
By accessing our online booking system you can play with our vehicle types, rates and extras until you are happy. 
If you are uncertain of anything please feel free to contact us anytime.