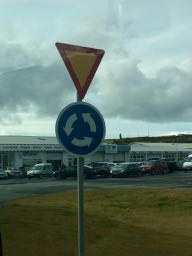 Weather and conditions on the main roads:
Today, Thursday wind is expected to increase again between Hvolsvöllur and Jökulsárlón – not as seriously as yesterday though, when the ring road closed for a few hours, as it will not snow as much. Nothing abnormal about the conditions in other parts of Iceland. The weekend forecast must be watched closely as currently we are expecting a considerable amount of snow in most parts on Saturday and heavy winds and snow in south and west Iceland on Sunday.
Weather and road conditions: Weather and road conditions in Iceland
Tourists often mistake 4×4 for a vehicle that can take on all terrain, which is of course not the case and this must be explained as damages can cost thousands of dollars.
Drivers who get stuck in rivers or in snow have to get themselves out at own expense – there's no insurance in the world that covers damage linked to crossing a river. For this reason it's very important they know where to access information about road conditions/closures. Illegal to drive off-road!!
Conditions in the highlands:
Highland roads are now all closed/impassible for unmodified vehicles! It's important to be properly equipped for winter – especially those heading for hikes and camping!
Conditions in popular tourist sites:
This time of the year the conditions vary a lot on the weather. Trails are now icy/snowy in most parts of Iceland, even on lowlands so we recommend bringing crampons along ALWAYS, regardless of location! These essentials shouldn't cost more than 3.000-4.000 ISK and make all the difference when exploring Icelandic sites during winter.
Reykjanes: Conditions on roads and trails by Gunnuhver are not good.
Þingvellir: Trails are icy but they are sanded. Signs indicating slippery conditions where they don't manage to sand.
Geysir og Gullfoss: Very slippery conditions at Gullfoss and in Geysir a few areas have been closed due to ice. It's very important that travelers stay on marked trails only! The lower trail towards Gullfoss will remain closed this winter due to ice. Crampons highly recommended.
Hraunfossar og Deildartunguhver: Icy and snowy roads and trails – crampons recommended!
Snæfellsjökull National Park: Slippery conditions on roads and trails – crampons highly recommended! Roads 570 and 571 over the glacier are closed!
South Westfjords: Roads towards Látrabjarg and Rauðisandur are difficult. Road over Dynjandisheiði (60) and Hrafnseyrarheiði (60) are impassible as is the road from Bíldudalur east towards the southern fjords of Arnarfjörður (63) so Dynjandi cannot be visited.
Hvítserkur: The road to Hvítserkur from the road 711 is closed and will remain so until spring. To reach the rock formation viewing area you will have to park your car and walk 10 minutes. The trail is quite icy at this time and crampons are highly recommended.
Goðafoss: Considerable amount of snow and ice in the area – important to wear good shoes and crampons!
Dettifoss og Selfoss: Roads in the area (864 and 862) are both closed due to conditions!
Hengifoss: Trail is icy and snow covered.
Reynisfjara: Big waves today and likely also tomorrow, Thursday! The beach can always be dangerous due to the unpredictability of the waves. It's not every wave – it's every 7th or 10th or 12th wave that goes a lot further up the beach than the rest making it difficult to assess danger upon arrival. There are no rocks in the ocean that break the waves and only a few meters of shore there's an underwater cliff so the pulling factor of these already powerful waves becomes even greater. On top of this the sand is very fine ash which makes it extra difficult to get away from these waves.
Same applies to Djúpalónssandur in Snæfellsnes Peninsula and Kirkjufjara beach but it's CLOSED for this reason.
Skógafoss: Area around the waterfall is quite slippery. The steps are ok but ice increases with elevation gain! Crampons recommended!
Seljalandsfoss: The walking path behind the waterfall is closed due to ice. Crampons are recommended in the area.
Þórsmörk/Goðaland: Closed/Impassible for those not in a modified vehicle. Staff will remain in Húsadalur throughout the winter. Snow in the area but rivers are in good condition for those with good experience.
Vestmannaeyjar: Side walks are a bit slippery at this time. The ferry will depart from Þorlákshöfn until further notice. Information on the ferry can be found on www.seatours.is (top of website).
Landmannalaugar: Roads closed/impassible for those NOT in a modified vehicle! There is a lot of snow in the area now (about 1.5m deep) but not too difficult to get around.
Conditions on hiking trails:
Hiking during winter time requires proper equipment even on shorter hikes. Please study our equipment list as preparation is key for successful travel in Iceland. Winter has arrived in most areas in Iceland so we recommend having minor crampons with you at all time.
Esjan: Must not be underestimated! Considerably colder up top than by the roots. Warm clothing is essential! Crampons highly recommended. Mountain crampons needed to go beyond Steinn as snow and ice are along that climb.
Skaftafell: Trails in the area are all slippery! Only S1 to the glacier can be recommended for those without crampons. All other hikes in the area require proper crampons, hiking poles and gaiters! S4 (Kristínartindar) not recommended without an experienced guide with proper equipment! Also keep in mind limited daylight when selecting a trail.
Reykjadalur: Spots of ice. When snowing it's important to follow the trail as it lies among risky geothermal areas and crampons are recommended.
Ásbyrgi: Visitor's Center is closed until January 8th. Ice and snow on all the trails!
Glymur: Ice on the trail and snow increases with elevation gain. Log over the river Botnsá will not return until spring so now hikers must either cross the river on foot, go up on the west side (not a good angle to see the waterfall) or take a longer route over the old bridge along the hiking route "Leggjabrjótur".
Avalanche conditions:
Those heading into the backcountry have to keep the following in mind!
The new snow is generally well bounded to the snow below! But a few slab avalanches have occurred, one triggered by a snowmobile in Strandir.
Moderate danger (level 2/5) in northern Westfjords, Tröllaskagi Peninsula and in the Eastfjords.