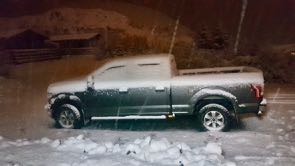 Weather and conditions on the main roads:
Storm after storm after storm! The storm moves from the SW towards the North and no travel conditions expected between 11:00 and 14:00 from Hvammstangi to Akureyri but storm will last longer east of Akureyri. Road closures in the area is a possibility – extreme side wind with sleet and icy roads.
Increased risk of landslides and rockfall in south east Iceland from Höfn to Djúpivogur tonight!
Thursday: Poor visibility due to dark snowshowers and snow blowing over the roads from Reykjavík to Hveragerði after noon in Southerly winds. Cooler temperatures after noon so icy conditions expected.
Friday: Yet another storm seems to be on the way after noon and could last until Saturday. Keep following the forecast with this in mind – road closures is still a possibility – a lot of rain/snow forecasted in south, west and east Iceland. Conditions will already be quite wet! Dry in the north.
Tourists often mistake 4×4 for a vehicle that can take on all terrain, which is of course not the case and this must be explained as damages can cost thousands of dollars.
Drivers who get stuck in rivers or in snow have to get themselves out at own expense – there's no insurance in the world that covers damage linked to crossing a river. GPS devices also tend to lead drivers on to closed roads. For this reason, it's very important they know where to access information about road conditions/closures. Illegal to drive off-road!!
Conditions in the highlands:
Highland roads are now all closed/impassible for unmodified vehicles! It's important to be properly equipped for winter – especially those heading for hikes and camping!
Conditions in popular tourist sites:
This time of the year the conditions vary a lot on the weather. Trails are now icy/snowy in most parts of Iceland, even on lowlands so we recommend bringing crampons along ALWAYS, regardless of location! These essentials shouldn't cost more than 2.000-4.000 ISK and make all the difference when exploring Icelandic sites during winter.
Reykjanes: Conditions on roads and trails by Gunnuhver are not good. Road 42 to Krýsuvík is often in worse conditions than others in the area.
Þingvellir: Wet snow in the area – could result in icy conditions tomorrow when temperatures drop.
Geysir og Gullfoss: Lower trail towards Gullfoss will remain closed this winter due to ice. Wet snow in the area – important to bring crampons as conditions change quickly. The flagstones around Geysir are in bad shape and can cause accidents when out of the snow.
Hraunfossar og Deildartunguhver: Good to bring crampons.
Snæfellsjökull National Park: Icy conditions expected in next days – crampons! Roads 570 and 571 over the glacier are closed!
South Westfjords: Road to Látrarbjarg is not winter serviced so it has not been plowed – impassible for regular cars! Road to Rauðisandur beach is in very difficult condition. Many mountain roads are impassible – Dynjandi cannot be accessed as roads are closed from both directions.
Hvítserkur: The road to Hvítserkur from the road 711 is closed and will remain so until spring. Weather dependent as to view the rock you'll have to walk for 10 minutes, one way.
Goðafoss: Spots of ice and crampons recommended!
Dettifoss og Selfoss: Extremely icy so bring crampons!
Hengifoss: Extremely icy so bring crampons!
Reynisfjara: Waves are big today and expected to be so for the next few days. The beach can always be dangerous due to the unpredictability of the waves. It's not every wave – it's every 7th or 10th or 12th wave that goes a lot further up the beach than the rest making it difficult to assess danger upon arrival. There are no rocks in the ocean that break the waves and only a few meters of shore there's an underwater cliff so the pulling factor of these already powerful waves becomes even greater. On top of this the sand is very fine ash which makes it extra difficult to get away from these waves.
Same applies to Djúpalónssandur in Snæfellsnes Peninsula and Kirkjufjara beach but it's CLOSED for this reason.
Skógafoss: Wet – could become icy over next few days.
Seljalandsfoss: The walking path behind the waterfall is closed due to ice! Other trails are ok but crampons recommended!
Þórsmörk/Goðaland: Closed/Impassible for those not in a modified vehicle. Staff will remain in Húsadalur throughout the winter. The river is at extreme levels – dangerous for even the biggest of modified vehicles!
Vestmannaeyjar: The ferry will depart from Þorlákshöfn until further notice on www.seatours.is (top of website).
Landmannalaugar: Roads are only passible for those with experience in a well modified vehicle! Wet snow and difficult to get around!
Conditions on hiking trails:
Hiking during winter time requires proper equipment even on shorter hikes. Please study our equipment list as preparation is key for successful travel in Iceland. Winter has arrived in most areas in Iceland so we recommend having minor crampons with you at all time.
Esjan: Crampons are essential! Mountain crampons needed to go beyond Steinn as snow and ice are along that climb. Must not be underestimated! Considerably colder up top than by the roots and wind often increases after 250 m. Warm clothing is essential!
Skaftafell: S1 towards the glacier is clear but all other trails, including to Svartifoss Waterfall, are closed due to ice and mud!
Reykjadalur: Wet snow/mud now and important to bring crampons along as conditions can change quickly – can become VERY slippery when everything freezes! Important to stay on the trail as it's surrounded by dangerous hot springs and very vulnerable nature! NO sneakers!
Ásbyrgi: Snow on trails.
Glymur: Ice on the trail and snow increases with elevation gain. Log over the river Botnsá will not return until spring so now hikers must either cross the river on foot, go up on the west side (not a good angle to see the waterfall) or take a longer route over the old bridge along the hiking route "Leggjabrjótur".
Avalanche conditions:
Those heading into the backcountry have to keep the following in mind!
Moderate danger (level 2/5) in Tröllaskagi peninsula, Eastfjörds and in Northern Westfjords.