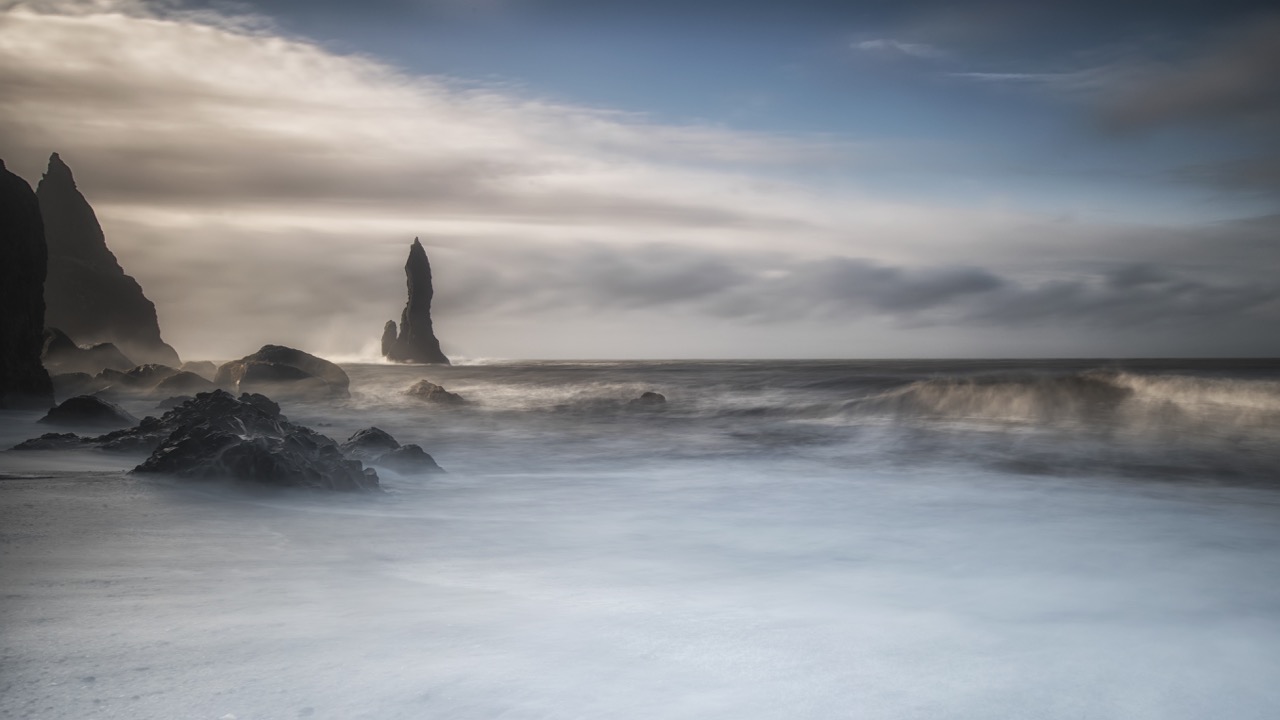 Weather and conditions on the main roads:  
Strong winds are expected in the south west on Friday and all over the country on Sunday. Rain expected throughout the country over the weekend.  
Conditions in the highlands:  
Questions about the highlands have now started to pop up. Highland roads are now closing one by one so it's prohibited to drive on them when that happens. Opening times will depend on the conditions but here you can find a brochure with the approximate opening dates. Keep in mind that these are estimates.    
Conditions in popular tourist sites:  
Conditions depend entirely on the weather so that must be checked every day. Many trails are now wet and muddy and therefore it's important to wear proper footwear as the mud is slippery and can cause accidents.   
Reykjanes: Conditions on roads and trails by Gunnuhver are not good. Important to drive very slowly!  
Þingvellir: Nothing remarkable about conditions.   
Geysir og Gullfoss: The road from Reykholt is in bad shape – a lot of holes and puddles when raining which can easily pop a tire if not careful. When walking from parking lot to Geysir one must be careful as the stone slabs are very uneven.   
Hraunfossar og Deildartunguhver: Nothing remarkable about the conditions but it's worth mentioning that Kaldidalur mountain road is still closed/impassible!    
Snæfellsjökull National Park: Roads 570 and 571 over the glacier are closed! Rubber mats have been placed on the trail at Djúpalónssandur to accommodate those who have difficulty walking. 
Southern Westfjords: Construction work at Dynjandi so all indication signs have been removed. Many of the gravel roads are in really bad shape – outer parts of turns should be avoided due to deep patterns in the wet mud. Big holes have formed in front of bridges on these roads so it's important to reduce speed before crossing.   
Hvítserkur: Road 711 from the ring road is in bad shape with big holes – road through Hvammstangi and past Vatnsnes is much better. Good to keep tides in mind if wanting to explore the rock closely.  
Goðafoss: Nothing remarkable about the conditions.   
Mývatn: Walking over Leirhnjúkar is not recommended as there's still snow covering the trail and it's dangerous to go outside of the trail due to hot springs. 
Dettifoss og Selfoss: The trail between the car park and Dettifoss is now mostly dry and free of snow. In occasional spots temporary bridges help visitors cross large puddles on the trail. The trail to Selfoss is covered with slushy, wet snow, making it a bit difficult walk. For reasons of safety and nature protection, visitors must follow instructions set up by park rangers!
Hengifoss: Nothing remarkable about the conditions.      
Reynisfjara: The beach can always be dangerous though due to the unpredictability of the waves. It's not every wave – it's every 7th or 10th or 12th wave that goes a lot further up the beach than the rest making it difficult to assess danger upon arrival. There are no rocks in the ocean that break the waves and only a few meters of shore there's an underwater cliff so the pulling factor of these already powerful waves becomes even greater. On top of this the sand is very fine ash which makes it extra difficult to get away from these waves.
Same applies to Djúpalónssandur in Snæfellsnes Peninsula and Kirkjufjara beach but it's CLOSED for this reason.
Skógafoss: The hike from the top of the waterfall along the canyon will remain closed until further notice due to bad conditions. 
Seljalandsfoss: Nothing unusual about the conditions- the trail behind the waterfall is wet and one must be careful when going up the rocks on the west side.  
Fjaðrárgljúfur: The trail has been closed due to bad conditions. Not recommended at this time. Will hopefully open June 1st.
Þórsmörk/Goðaland: The road is open and suitable for all 4X4 vehicles. It is not advised to attempt crossing the river Krossá unless you are on a large modified 4X4 and have experience crossing rivers. 
Landmannalaugar: The area is very wet at the moment and driving conditions are very poor even for large 4X4 vehicles!   
Conditions on hiking trails:  
Hiking during spring time requires proper equipment even on shorter hikes. Please study our equipment list as preparation is key for successful travel in Iceland. The way down can often be harder than the way up so hiking poles are a good tool to help your tired knees on the way down.   
Esjan: Must not be underestimated! Considerably colder up top than by the roots and wind often increases after 250 m. Warm clothing is essential! Watch your step as it is very muddy and slippery past Steinn!   
Skaftafell: All trails open except for S3 and S4. 
SE of Vatnajökull: Trails in the area are quite wet. To access trails towards the glacier one must take gravel roads which can be in bad shape with holes and mud. The 15 km trail around Stafafjöll mountains is very wet so good footwear and gaiters must be kept in mind as well as it's very important to stay on the trails!   
Reykjadalur: CLOSED due to muddy and hazardous conditions. Situation is closely monitored and Umhverfisstofnun will announce the opening when time comes.   
Ásbyrgi: Most trails are dry and free of snow. However, still some snow at Botnstjörn.
Glymur: Log over the river Botnsá will return later this month so hikers must take a longer route over the old bridge along the hiking route "Leggjabrjótur" or cross the river above the waterfall.  
Avalanche conditions:  
Those heading into the backcountry must keep the following in mind! 
Moderate danger (level 2/5) in Tröllaskagi peninsula and Westfjords.